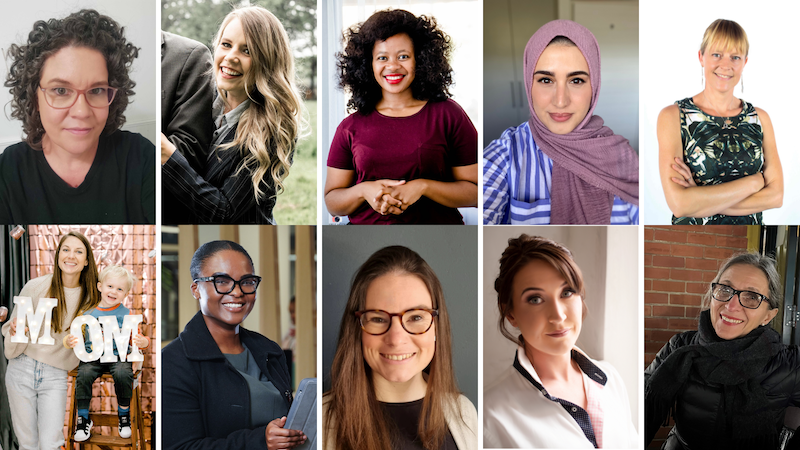 Pioneering the Green Building Revolution – Inspiring Journeys of Female Accredited Professionals
August 29, 2023
Accredited Professionals (APs) are critical in the Green Star certification process, guiding project teams every step of the way and ensuring the transformation of South Africa's built environment for people and planet to thrive. GBCSA is honoured to count a force of women among the hundreds of APs accredited through GBCSA since our inception in 2007.
As part of Women's Month, it gives us great pleasure to showcase some of our leading women APs, who share their inspiring journeys, the highlights of their careers and reflect on the significant milestones of green building in Africa.
Marloes Reinink
Director, Solid Green Consulting
"My experience is that women in business tend to be intuitive, good listeners. As such, we are able to adeptly transcend boundaries and navigate diverse domains, directing with purpose and reshaping perspectives with determination."
Marloes landed in South Africa 21 years ago as part of what was supposed to be a 6-month student exchange programme. She never left. The timing of her arrival in SA was fortuitous with the green building movement in its infancy, which meant that Marloes was there from day one, watching and contributing to the thriving industry we see today.
She started her green building journey the CSIR with a Master's research focusing on developing a green building design tool for rural schools. In 2007, she started working for Green By Design, led by Eric Noir, and became one of the first Green Star APs in the country. Marloes also worked on Nedbank Head Office Phase 2 in Sandton – the very first building in the country to obtain a Green Star SA certification.
"Starting Solid Green Consulting in 2010 was a bold and scary move, but very soon it became apparent there was an increasing need for green building expertise and before we knew it, we celebrated 10 years of business, 20 employees and over 100 projects certified."
Mary-Anne Fechter
Environmentally Sustainable Design Consultant, Zutari
"To this day, as women in the built environment, we often find ourselves to be the minority. Even if slow, this is changing, and it is encouraging that one really does not have to search far to find inspirational women in this field."
After completing her studies at the University of Pretoria, Mary-Anne worked as a graduate civil engineer mainly focused on urban road design. In pursuit of her key interest in sustainability and natural resources, Mary-Anne pursued a Master's in Spatial Development and Natural Resource Management at the Technical University of Dresden in Germany.
With the combination of civil engineering and natural science, she has unique expertise in integrating sustainability and resiliency into the planning, construction and operations of buildings and other infrastructure. She currently works at Zutari as a consultant in the Environmentally Sustainable Design (ESD) team that specialises in green building consultancy. "We provide services for certification of green buildings under different rating schemes and provide sustainability consultancy services for buildings and other infrastructure in all phases of their lifecycle."
Cebisa Mafukuzela
Sustainability Consultant, Solid Green Consulting
"As a woman in this growing industry, and with current focus on inclusivity, I aspire to create a positive influence for other young women and to make the concepts of Green Building and Sustainability accessible and achievable to all communities and individuals."
Cebisa's journey is anything but conventional, as an architect with years of experience under her belt working for several architectural firms, she decided to pursue other avenues that were not strictly speaking within the realm of traditional architecture. Meeting Paul Carew, the founder of PJC+Partners, an environmental and sustainable design consultancy in the building industry, pivoted Cebisa into a world of Green Star rating tools, sustainability, and passive design which she has grown to become extremely passionate about.
"Working at PJC will always be a pivotal point in my journey because I was exposed to a career and industry I had never imagined." Over the next few years, she worked at ecocentric and now as a sustainability consultant at Solid Green Consulting.
Sally Misplon
Director and Founder, Misplon Green Building Consulting 
"Being recognised as a successful woman of business is a great privilege. I hope I can inspire women to balance our roles, chase our dreams and nurture our passions all at once. I hope to stand as beacon of strength, showing that with dedication, support and a dash of adventure, anything is possible." 
Sally's journey started ten years ago, in Cape Town, when she took a leap of faith and founded Misplon Green Building Consulting. Inspired by a passion for the built environment and creating a greener, better/healthier planet, she volunteered in the development of the ground-breaking Green Star EBP rating tool that transformed the way buildings are operated and managed. Over the years her journey has taken her from Cape Town to Johannesburg, where she continues to grow her business and where has started her family.
Misplon Green Building Consulting has, since its inception, been responsible for over 300 Green Star building certifications predominantly across the listed property sector – an achievement that Sally is extremely proud of as a woman in today's business environment.
"Despite the demands of running a business, I firmly believe in the power of balance and would not be able to achieve this without the support of my husband (and family). Together we are a team that cherish each other's aspirations and goals where we create an environment where mutual growth and fulfilment thrive."
Nomamfengu Mbele
Sustainability Specialist – Compliance, Reporting and Building Performance, Growthpoint Properties
"I do think working in the transitioning-built environment, where the impact on people and the natural environment is being measured at all times, nobody knows everything – new and thoughtful energy is required. It is the ideal industry for women as we are equipped for not only taking lead and making decisions for the benefit of community, but we are also able to be vulnerable and show up as who we truly are, which allows us to deal with uncertainty and face all risks."
When Nomamfengu completed her honours in Urban and Regional Planning from Wits University, she was looking for work that would expose her to a diversity of professionals working towards making a significant and positive impact in the built environment. This led her to Solid Green Consulting where she started her green building journey as a sustainability consultant. "I was surrounded by a predominately female team that prioritised alternative thinking, quality work and a balanced life."
In 2022, Nomamfengu turned her sights beyond certifications to implementing sustainability at both a strategic and operational level. That is what led to her move to one of SA's largest REITs where she currently works as a sustainability specialist.
"A quote that resonates with me throughout work and life is:'and here you are living, despite it all' – Rupi Kaur."
Adrie Fourie
Head of Department: Sustainable Cities & Research, Solid Green Consulting
"The green building industry itself expanded significantly since I joined, with an increase in the number of certified projects, but also significant market shifts in approaches to design, product development and gender diversity. I find that there will always be additional room for growth, and, for me, the focus is on sending the ladder down and consistently expanding on, facilitating, and improving the ways in which women can participate in the industry."
Adrie started her career as a development economist, and later moved into urban management and providing sustainable development guidance. She completed a master's degree in architecture that focused on water conservation in the built environment and included a review of office buildings certified in Australia, New Zealand, and South Africa. After that, her journey gained momentum within the realm of sustainable building and precinct design, construction, and operations.
The development of the Green Star SA Custom Healthcare tool and working as the AP on the first Healthcare certification project are among Adrie's career highlights. She also credits her work as part of the team responsible for the Local Context Report for the Sustainable Precincts tool, and her contribution to the Places category for version 2 of the New Build tool as meaningful experiences on her journey.
Roxanne Dovey
Sustainability Consultant and Owner of GreenFit Consulting
"As a woman in the industry, it can at times be intimidating, as most projects are still predominantly male driven. However, I believe – like in sustainability – a balance of both men and women is required to ensure a holistic sustainable future is achieved."
Roxanne didn't initially set out to pursue a career in the built environment – instead she wanted to become a bio kineticist. Luckily, for the green building movement at least, the universe had other plans. After finishing school she studied part time while working for firms specialising in agriculture, electrical and civil engineering. This is where she was exposed to the built environment for the first time and where the sustainability bug bit. Her passion for sustainability was particularly sparked by a civils design for a spill protection pond and evapotranspiration bed for an ECD School.
Roxanne furthered her studies by completing her Honours in Environmental Management and in the process, she learned more about GBCSA and she was hired by WSP. During her tenure at WSP, she predominantly focused on Green Star rated buildings. Deciding to up her skills in Sustainable Tourism, Roxanne founded GreenFit Consulting where she continues to inspire a better built environment.
"Always try to find a poetic moment every day, let it inspire responsible design and choices for a sustainable future."
Yovka Raytcheva-Schaap
Technical Specialist – Environmentally Sustainable Design (ESD), Zutari
"I grew up in Eastern Europe and have first-hand experience with being able to do with limited resources, self-sustaining families and communities, small scale food production, limiting waste, protect the natural habitat, prolong the life of possessions, etc. These concepts are deeply rooted in me, and so when the opportunity came to work in the sustainability realm, I was there."
Yovka's first introduction to green buildings occurred around 2010 when Zutari's (then Aurecon) head office in Pretoria and Cape Town office in Century City were in the process of being certified by GBCSA. These offices were among the first buildings in South Africa to be designed and constructed in line with Green Star principles.
At the same time, Zutari established its Environmentally Sustainable Design (ESD) team led by Martin Smith. Yovka was excited to be part of the team and directly contribute to what was at the time a new movement in the real estate sector. Since then, Yovka has worked on some of SA's flagship building projects and particularly highlights the many individuals – architects, engineers, clients, contractors and, colleagues and other sustainability consultants – that have inspired her along the way. "It is a privilege to be part of this industry and part of the force for environmental and social good."
Annelide Sherratt
Head of Department: Green Building Certifications, Solid Green Consulting.
"Sustainability is simply a way of living. The goal is best achieved through team effort."
Annelide's journey started 12 years ago as a Master's Architectural student. Keen to specialise in sustainability but with little content and projects showcasing sustainable architecture in South Africa at the time, Peet Botha – an electrical engineer with a wealth of knowledge about sustainability had a profound impact on her career trajectory. Peet introduced her to two emerging companies in the sustainability space – Solid Green and ecocentric. Annelide connected with Solid Green founding director, Marloes Reinink and the rest, as they say, is history. She started working for the company a month later.
Determined to obtain first-hand practical experience in an exciting new industry, Annelide paused her studies and her decision paid off. Now, 11 years later, she heads up the green building certification department at Solid Green. Throughout the years, with Solid Green's support and investment, Annelide was able to complete all AP courses, from various Green Star SA specialisations to LEED, WELL, EDGE and EPCs. She was also given the opportunity to complete, with distinction, a Master's of Science degree through the De Montfort University in Leicester, UK in Energy and Sustainable Building Design.
Having been instrumental in over 40 certifications, Annelide has enjoyed an illustrious career so far with pioneering projects repeatedly crossing her desk. "I thrive when taking on new challenges including the development of pilot phase rating tools and completing 'never before attempted' certifications." Her highlights include the first Green Star Certification in Mauritius, various Interior Pilot Project Certifications, one of the first Sustainable Precinct Pilot Certifications, various Net Zero Pilot Ratings, the first 6-Star Green Star SA Office V1 As Built rating in Johannesburg and the first 6-Star Office v1.1 rating submission in South Africa.
Annelide is currently a GBCSA faculty member, a GBCSA assessor for New Build, Interiors and Sustainable Precincts projects, and is also the Health category lead for the development of the New Build version 2 tool.
Wardah Safi
HR Manager & Senior Green Building Consultant, Ecolution
Yesterday I was clever, so I wanted to change the world. Today I am wise, so I'm changing myself" ~Rumi
"I've always had a keen interest in sustainability based on how I was raised within my religion and household. After studying the two very different degrees, I found myself in search of a place that could allow me to exercise the knowledge I've gained in both and practically apply it. I saw a job ad at a sustainability consultancy firm and the job requirements aligned with my tertiary education. I applied, got the job, and haven't looked back since.
It's been a rewarding journey to date but that is not without its challenges of being a female of colour in a predominantly male dominated industry. I was aware of this before embarking on my tertiary education, but I was a bit naive in my full understanding thereof. However, I took up the challenge and continuously use it as a motivating catalyst to change the narrative however small it may be. Starting with myself and allowing that to emanate to help and inspire others to follow suite."