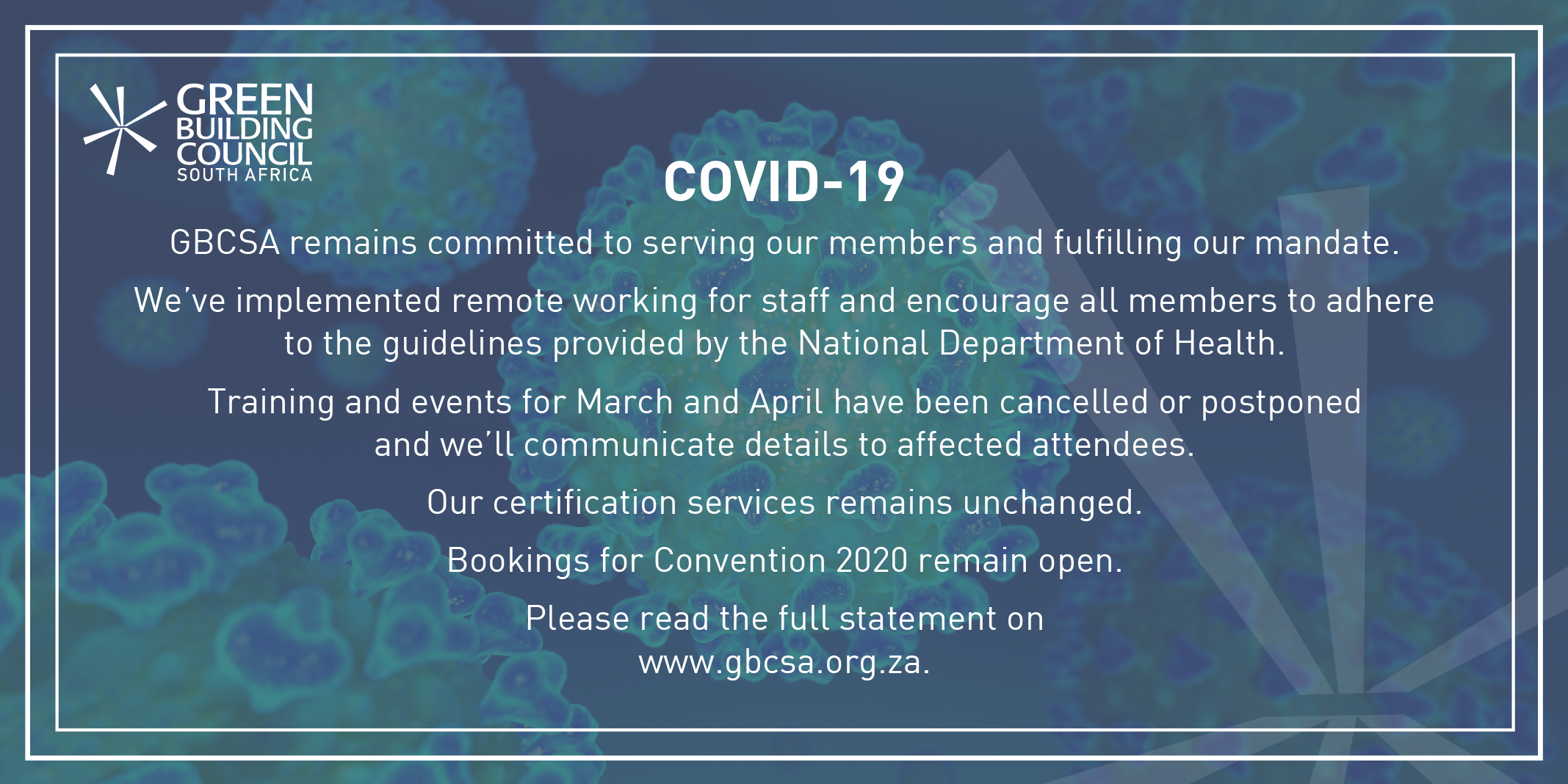 Official GBCSA statement with regards to Coronavirus (COVID-19)
March 23, 2020
As a member centred organisation, our members remain our most important asset and we would like to communicate the organisational decisions made related to the spread of the Coronavirus. In saying this, the situation is shifting on a daily basis and our organisation will strive to stay on top of developments and incorporate any further required amendments.
There has been extensive media coverage on best practice and how to stay safe as the COVID-19 continues to spread. Please adhere to these guidelines to ensure you keep yourself and your loved ones safe.
If you suspect that you have been infected, contact the official National Department of Health COVID-19 support service on +27 60 012 3456, providing up-to-date information on COVID-19 in South Africa. For the latest news follow them on twitter.
Remote working for GBCSA staff
For the benefit of our staff health and safety, we have decided to extend our remote working policy to all team members for the foreseeable future. Please know that we have put the necessary measures in place to continue delivering services to you, our members, and that we're confident in our team's ability and resilience. Our Key Account Managers are also fully prepared to ensure that they are as available to members and other stakeholders as they would be if they were in the office and communications will not be compromised. Video conferencing and other remote meeting measures will be used in place of in person meetings.
Training, Events and Certification
Our training and events departments are working hard in ensuring that members are being kept abreast of developments. Networking events for March and April have been postponed, while our standard cancellation policies apply for training. Our training department will be in contact with those members that have courses booked during March and April to advise of possible postponement or moving face-to-face training courses online. Rest assure that you will not forfeit any fees paid to courses that will be postponed or cancelled due to the Coronavirus spread. Our certification services continue as normal.
Green Building Convention 2020
While the 13th Annual Green Building Convention is still some months away (28 September – 2 October 2020), we are closely monitoring developments around the Coronavirus (COVID-19). As the Green Building Council South Africa (GBCSA) we want to assure our partners, members, delegates and staff that any decision in regards to this year's Convention will be guided by our highest priority – your health and safety. We will not compromise on the world-class Convention experience you deserve.
We understand that there is currently a lot of uncertainty on the continued impact of the coronavirus, especially around large gatherings. In light of this, the Convention is implementing additional measures to ensure the health and safety of everyone attending. In the event that the Convention is postponed, we also have contingency plans in place to ensure as little inconvenience to you as possible. Updates related to the impact of the coronavirus on the Convention will be communicated to our website and social media channels. Please refer to our FAQs on the Convention website for more information.
For more information please contact: [email protected] or call our switchboard: 021 486 7900.