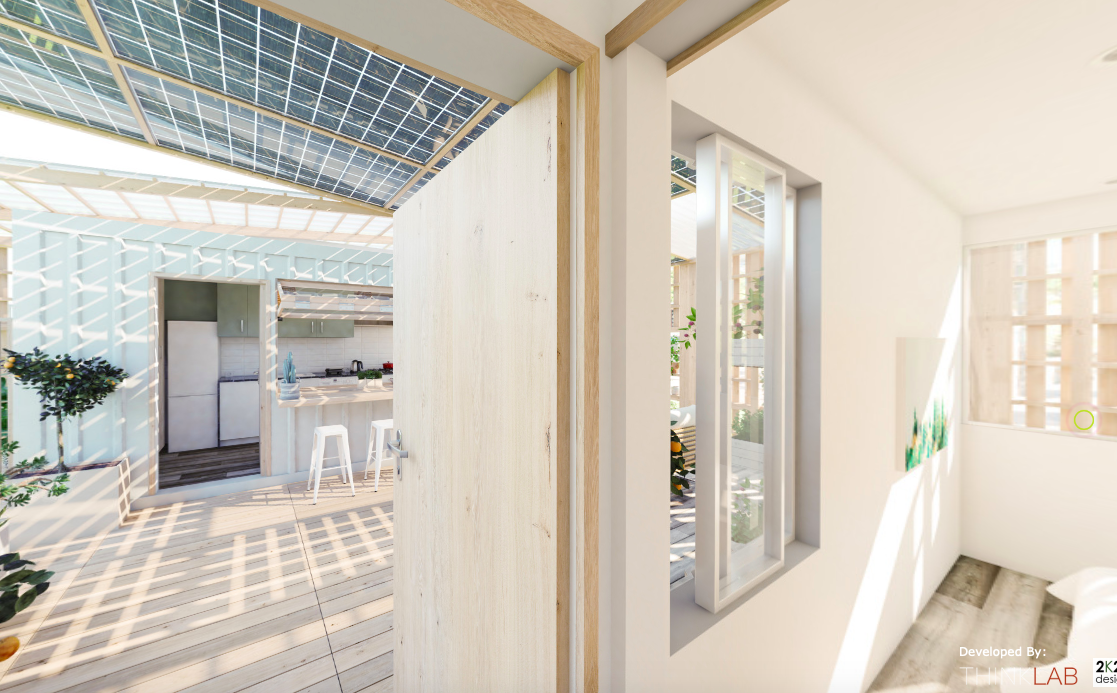 Step inside a winning net zero carbon home
February 22, 2021
The 'My Clean Green Home' design competition called for professionals and students to develop a home that demonstrates sustainable living in action. The winning design can be explored online and will soon be constructed and ready for visiting in person, in Cape Town.
A collaboration between the Green Building Council of South Africa (GBCSA) and the City of Cape Town's Future Energy Festival, the competition brief was to design a net zero carbon home for display and exhibition purposes. The challenge was to create this "mobile" unit for a total construction cost of only R180 000. The unit also needed to be designed to be assembled on site in two days and should be easily constructed and deconstructed using simple fixings and flat pack, modular design elements. Transporting of the unit also needed be considered.
The response to the competition was wonderful, with inventive and excellent quality entries. The judges, Lisa Reynolds (CEO GBCSA), Manfred Braune (Director: Environmental Sustainability University of Cape Town), Ashley Hemraj (Senior Architect: Urban Sustainability Unit City of Cape Town) and Anthony Stroebel (Head of Strategy and Innovation at Pam Golding Property), were impressed with all entries.
The final winning design came from Team Mahali, and Hemraj described the design as "creativity in its simplicity". He added that it was a very strong and aesthetically pleasing design that blurs the indoor and outdoor space and creates an illusion of a much larger home. A very strong balance between private and open spaces. "The design takes the concept of a clean green home to another level by repurposing waste material into something functional and thus giving new life to old things," Hemraj said.  
The design for the net zero carbon home incorporates solar power generation, energy efficient appliances, passive cooling, rainwater harvesting and an edible food garden.
The runner-up design came from 2AD Space and was described by the judges as a great proposal with a small, high density unit that made use of an extensive roof area to take advantage of solar energy.
Owing to Covid-19 restrictions, a virtual version of the winning design was created to bring the home to life and make it available to all online here. It's possible to take a virtual walk through the beautiful net zero carbon home.
Throughout the home there are interactive tips on how to be resource efficient at home. An energy calculator is also available for one to find out how energy efficient your home is and there are resources to help people on the journey to becoming net zero carbon. The resources tab also gives one access to city documents and net zero case studies.
The City of Cape Town, along with Johannesburg, Tshwane, and eThekwini are C40 cities and signatories to the ambitious 2018 C40 Global Net Zero Carbon Buildings Declaration. This means these cities have committed to developing regulations and/or planning policy to ensure new buildings operate at net zero carbon by 2030 and all buildings reach net zero carbon status by 2050.
The City of Cape Town notes that buildings consume 38% of the city's energy and generate 58% of its carbon emissions, showing that climate action in the built environment can make a big difference!
A full-sized pop-up version of Team Mahali's winning net zero home will be built in Green Point Urban Park in Cape Town. Here visitors can see how the net zero carbon home operates and learn about the possibilities of energy efficient homes. This is expected to be open to the public in early March 2021.
For more information on the GBCSA's Net Zero rating system click here, or visit our resources content centre where you will find the publication "Getting to Zero: A Guide to developing net zero buildings in South Africa" freely available to download.