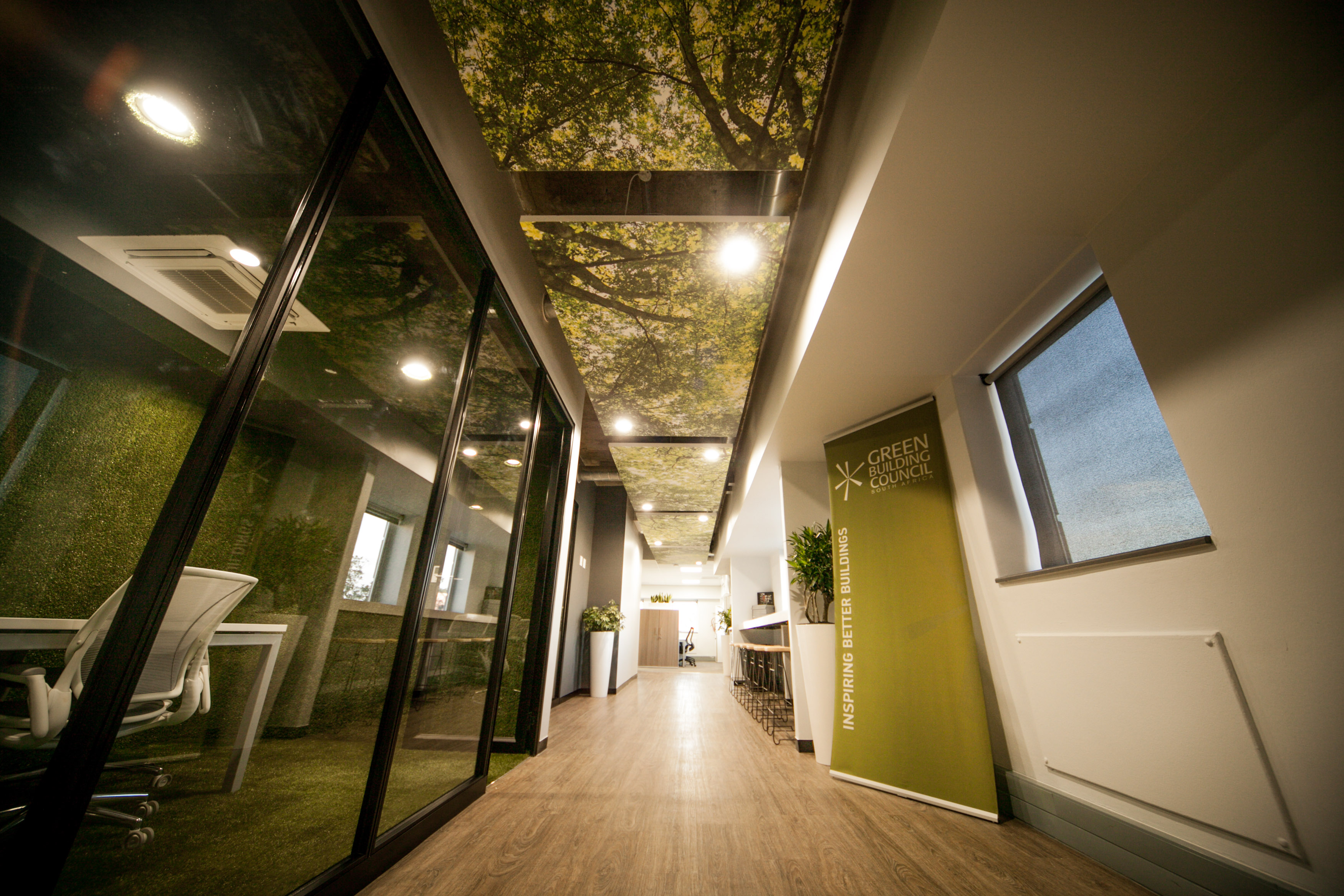 New green interior rating delights GBCSA
August 07, 2018
Green by name and by interior design
If you were to visit the Rosebank office space enjoyed by the Green Building Council South Africa (GBCSA) today you will not be surprised that it is celebrating a successful Green Star – Interiors v1 rating.
As high-performance tenant spaces, green interiors are healthy, productive places to work; are less costly to operate and maintain; and have a reduced environmental footprint, says Ilse Swanepoel head of utilities for Redefine Properties. Redefine own and manage the offices located at Rosebank Corner, 191 Jan Smuts Ave where they are aiming to achieve a Green Star – Existing Building Performance rating.
"Our commitment to rate the performance of our buildings through tools such as the GBCSA's Green Star rating system is further based on overwhelming evidence that demonstrates the positive impact of green buildings on productivity and the well-being of their occupants," Swanepoel said, adding that "sustainability makes good business sense as efficiently managed assets provide better returns especially in real estate." Last year Redefine's optimisation and renewable energy projects achieved a combined energy reduction of more than 10 million kilowatt hours. "Our policy has been to improve energy efficiency and water conservation resulting in a carbon footprint reduction. We believe managing this is not only important to our bottom line but also generates long-term value for tenants," she said.
Clear value in excellent office space design
 Office design can contribute to this value and Tim Prins of TC RPv Architects was trusted to realise the GBCSA's vision for the space. "The design was focused on enhancing the performance of staff and giving them a choice of where and how they would like to work – whether they required a space for formal or informal work, quiet focused work, or a collaborative space," Prins said.
"With the ebb and flow of high-energy GBCSA staff and clients, it was important that desk-based staff would not be disrupted, but rather enjoy a visual connection around the office. We did this through making static spaces work much harder by doubling up on their function and making them adaptable to shrink and grow depending on the demand for space," he said.
"Beyond the excellent design, we also benefit from the focus on improved indoor environmental quality (IEQ)," comments Grahame Cruickshanks, GBCSA Managing Executive for Market Engagement. "Multiple studies have been done which demonstrate that an improvement in IEQ leads to more productive and healthy workers. The fruits of the workers' productivity, as well as a reduction in absenteeism, leads to financial benefits for the business," comments Fabio Venturi, founder of Terramanzi Group, a multiple award-winning green building consulting firm who partnered with fellow green building consultants Ecocentric.  Both firms are leaders in their field and this collaboration ensured an exceptionally high standard of interior design and environmental impact.
"Claire Holton, our lead Green Star Accredited Professional on this project, worked closely with our amazing colleagues in Gauteng, Ecocentric, to deliver a world class performance. This project was particularly satisfying as we were giving back to our industry and the GBCSA, who have done so much to build the green building movement and advocate for the low hanging fruits that green buildings represent in our quest to build a better world," said Venturi.
High standard of interiors rating 'impressive'
"GBCSA is delighted to announce that the project has achieved a 4-Star Green Star – Interiors v1 rating. A total of 51 points were targeted and an impressive 49 were achieved after the Round 1 assessment. The assessment is done by an independent assessor, and not by the GBCSA," said Manfred Braune, GBCSA Managing Executive: Sector Development & Transformation & Executive Director. "It's impressive that this certification was gained in one round, while most projects take two rounds," he added.
"Obtaining a substantive 4-Star Green Star rating in Round 1 of the certification process, bears witness to having partnered up with the right team and delivering the best results," said Jutta Berns-Mumbi, Ecocentric director and principle consultant. "Because cities, neighbourhoods, buildings and interiors are akin to eco-systems, working across disciplines and following integrative processes was paramount."
"Teamwork was key," agrees Holton, who explained that Terramanzi and Ecocentric ensured they divided the Green Star credits per category between them upfront, communicating during each step and guiding one another when required. "Some of the sub-contractors and suppliers for the project had been involved in Green Star Submissions in the past, so they understood the requirements around the technical documentation."
A Green Star – Interiors rating is focused on maximizing the output of the office users, explained Holton, who pointed out that fresh air rates increase cognitive function performance; zero volatile organic compounds (VOCs) contribute to better health; reduced glare means less eye strain and so fewer headaches; access to daylight and the natural changes in light that occur during the day drive circadian rhythms which help you to stay alert in the day, and sleep better at night, and; good distance views help reduce stress levels.
"As staff in an office environment usually constitute the highest single cost to a business, providing an environment where well-being and performance improvements go hand in hand is a simple business case and clearly one that is inherently understood and practiced by the GBCSA," said Berns-Mumbi.
GBCSA expects significant growth
This understanding is becoming increasingly common and Dorah Modise, GBCSA CEO, expects that as the GBCSA enters its second decade it will see significant growth in green building practices across the built environment value chain.
"Our continued growth in Gauteng has culminated in this bigger, more centrally located office space. To better demonstrate our values, we gathered support from our members to ensure that the GBCSA's home in Gauteng achieves a highest possible interiors rating. And, as GBCSA belongs to its members, so we look forward to welcoming all our members into this new space, as well as our existing office in Cape Town."