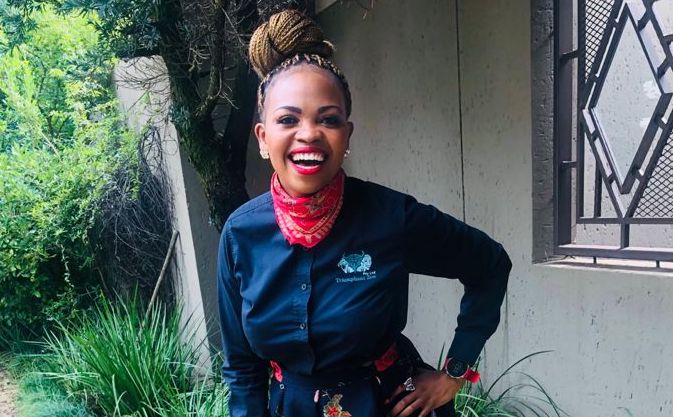 Meet the members: In conversation with Tryfina Kgokong
August 24, 2021
Tryfina Kgokong is the founder & CEO of Triumphant Zoe which offers professional quantity surveying, project management and green building accreditation. She answered our questions to give us a better idea of her work, the environment and what inspires her.
1. Where do you go for inspiration?
I'm one of those people who finds inspiration from little things. I am inspired by nature, I enjoy taking walks and just enjoying the beauty of nature. I must say that Cape Town is one of those places that I love because of the beautiful views and scenic drives that I enjoyed when I used to live there.
I'm also very inspired by people who aspire for greatness and regardless of their difficult circumstances, are able to rise above the challenges that they face. I'm inspired by my mother who is a very intelligent and strong woman as well as my father who raised four young women and instilled in us the value of education – and today all four of us are master's degree holders including 3 MBA degrees and all of us having achieved our undergraduate degrees from the University of Cape Town.
2. What is the best part of your workday?
I love mornings because I get to practice gratitude and self-affirmations as well as plan for the day ahead. As Henry Ford said, if you fail to plan, you are planning to fail. I use my mornings to positively anchor my mind and meditate through prayer and breathing exercises to be prepared for anything that could happen during the day. Once my mind is in the right space, I find that my work is more productive and the energy with the team is also a lot more positive. I enjoy the social media content that I create and post every morning to create awareness on various property topics as well as spread some positivity through using inspirational quotes.
3. What achievement are you most proud of?
I've always been passionate about sustainability and green buildings. One of my most proud achievements was when I completed my master's in business from the Stellenbosch University and my research topic for my thesis was about green buildings. I had undertaken a case study of the Nedbank office in Umhlanga and spoken to some of the professional team members on the importance of collaboration to ensure the successful delivery of a green building.
I'm also very proud to have worked on international projects in Dubai, Abu Dhabi, Qatar, Beirut, Botswana and Zambia. The biggest project that I worked on was the Abu Dhabi international Airport project which was valued at R40 Billion.
4. What do you think is the most urgent global environmental challenge facing us?
I believe that awareness is key and that it all starts with the individual being aware of the need for sustainability and taking care of the environment. Corporates are looking at implementing green strategies where the ESG (Environmental, Social and Governance) is prioritised, and this should also become every individual's goal. To not only focus on the bottom line and or investment requirements, however, to make it one's personal goal to be aware of the ESG positive impact that one can make. It's sort of the starfish analogy whereby a particular matter may seem overwhelming, however one needs to focus only on what they are able to do with what they have, because that still makes a difference. It's like the saying that goes: How do you eat an elephant? One bite at a time.
One can focus on reducing your own energy, water and waste materials that one produces and this will have a bigger impact when more and more people start to practice environmental awareness.
On the social front, as a country we have so many social challenges from inequality, unemployment, etc and one can look at how they can make a social difference even if it's just to that one person, because it's the collective impact that will eventually create a chain reaction.
Governance speaks to ethics, risks and administration of an organisation; however, an individual can also apply this to make a decision to be ethical in all their dealings and take accountability of their actions and the effect that it may have to the next person.
5. What do you feel is the biggest issue in the green building industry that we have to overcome, and any ideas on where to start in tackling it?
The green building industry is key to ensuring better sustainability of the environment as well as the promotion of the ESG goals. I believe that the challenge is that we are working in silos and cliques, and we need to be more open and look at collaborations and building relationships and networks that will result in a greater positive impact.
It is great that we are able to attend webinars and knowledge sharing sessions as well as conferences. However, it is also important to connect and stay connected, it might be daunting to make that initial contact, however I believe that its important to communicate and share project opportunities as well as partner with one another to transfer skills for the benefit of the entire industry.