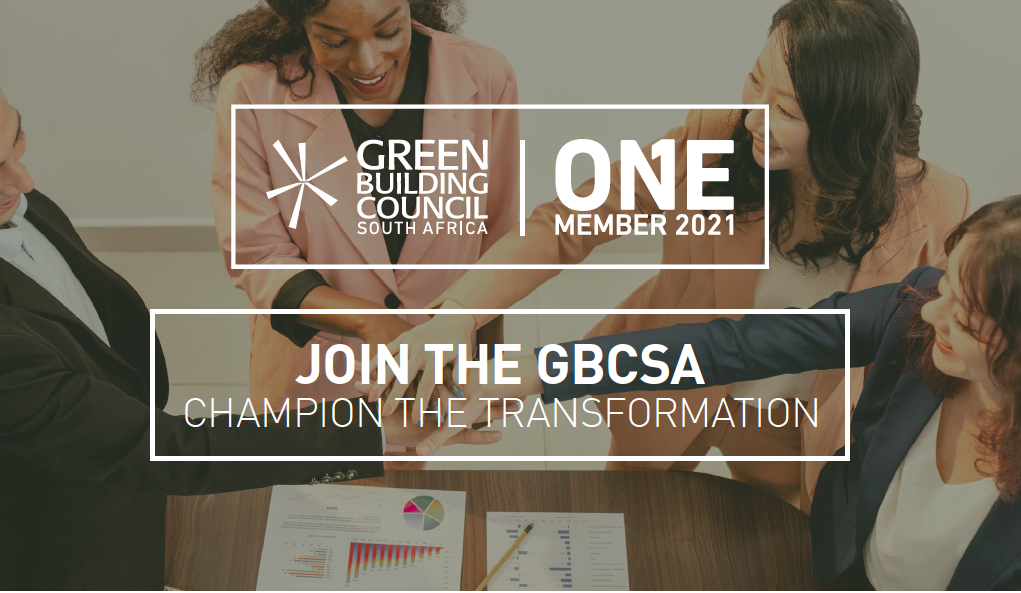 It starts with ONE
March 30, 2021
The Green Building Council South Africa (GBCSA) is now welcoming individuals to join as members.
Membership was previously reserved for companies and organisations. However, the GBCSA has increasingly been receiving interest from individuals to join the community – in particular to access the benefits of attending GBCSA member events and unlock the discounts for training offered to members.
Individual members joining our green building community will be known as ONE Members and will join an incredible network of passionate people working together as ONE to inspire a built environment where people and planet thrive. We recognise that while everyone has an impact on the environment, every ONE also has a positive contribution to make to the whole.
Joining the GBCSA shows a commitment to sustainability and to working together to transform South Africa's built environment. At the GBCSA we share knowledge, raise awareness and connect and inspire people. We certify buildings, offer training, and advocate tirelessly for better buildings and a better built environment. By opening up to ONE Members, we aim to further the reach of the GBCSA and its existing members, as well as getting valuable input from a new perspective.
The price of membership is R1 450 for the year. ONE Members will receive the GBCSA ONE Member logo for personal use and will enjoy the following benefits when they join:
Events and networking:
Access to all webinars and online events
Free access to two in-person planet shaper events (ie. building tours and Wednesday wine) per year, thereafter discounted rates will apply
Discount for the annual Green Building Convention
Training and education:
Discount on CPD accredited training courses
Knowledge sharing resources:
Access to research, reports and case studies
Opportunity to join the GBCSA Circular Economy Special Interest Group
Access to GBCSA's +Impact Magazine
Receive our monthly newsletter and engage with our community on social media
The current global health, economic and environmental crises being faced will require a different approach to overcome. The GBCSA is determined to ensure that as we rebuild and move into a new era, that the recovery is a green one. The changes required to meet our planetary, political and personal climate change targets, will require that every ONE is on board.
Join us as we lead the green recovery.
Click here to sign up.