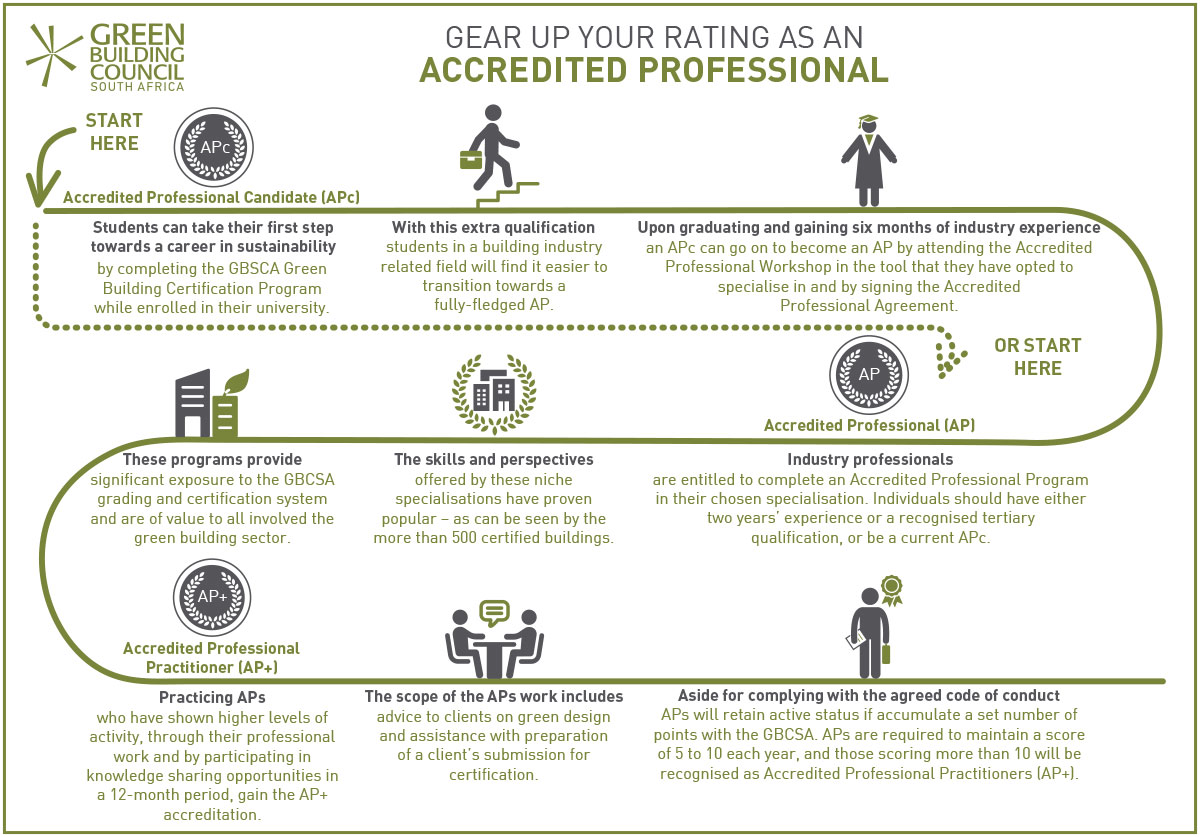 Gear up your rating as a green building professional
December 05, 2019
A GBCSA Accredited Professional (AP) is equipped with the knowledge and expertise to become a confident leader in guiding projects through Green Star certification.
To recognise the maturing of the green building sector in South Africa, Green Building Council South Africa has introduced tiers to the AP ratings given to professionals who are accredited with the GBCSA to work on Green Star or Net Zero projects.
The three tiers: Accredited Professional Candidate (APc), Accredited Professional and Accredited Professional Practitioner (AP+), make the sector more transparent and accessible to those inside and outside the industry.
Accredited Professional Candidate (APc)
Students can take their first step towards a career geared towards sustainability by completing the GBSCA Green Building Certification Program while enrolled in their university. With this extra qualification current students, or recent graduates in a building industry related field with less than six months industry experience, will find it easier to transition towards a fully-fledged AP. Upon graduating and gaining six months of industry experience, an APc can go on to become an AP by attending the Accredited Professional Workshop in the tool that they have opted to specialise in and by signing the Accredited Professional Agreement.
Accredited Professional (AP)
Industry professionals, many of whom want to reflect the realities of a changing world in their practices, are entitled to complete an Accredited Professional Program in their chosen specialisation. Individuals should have either two years' experience or a recognised tertiary qualification, or be a current APc.
The skills and perspectives offered by these niche specialisations have proven popular – as can be seen by the more than 500 certified buildings and projects – they are for New Build, Existing Building Performance, Interiors, Sustainable Urban Precincts, and Net Zero. These programs provide significant exposure to the GBCSA grading and certification system and are of value to all involved the green building sector.
Accredited Professional Practitioner (AP+)
Practicing APs who have shown higher levels of activity, through their professional work and by participating in knowledge sharing opportunities in a 12-month period, gain the AP+ accreditation. This reflects their standing as having fulfilled the criteria for one or more areas of AP specialisation and maintaining a point count of 10 or more.
How points are maintained
Project owner on project certified within last 12 months: 3 points
Lead AP on project certified in last 12 months: 5 points
Support AP role on project certified in last 12 months: 2.5 points
Professional role on project certified in last 12 months (this includes professional services, modelling inputs and specialist consulting input): 1.5 points.
Faculty (including honorary) on AP course: 1 point
Assessment/ Moderation completed: 1 point
Attended convention: 2 points
Attended GBCSA course: 1 point
Attended GBCSA members event or building tour: 1 point
In line with the overall purpose of the AP program, to improve project owner and teams understanding of green design principles, the scope of the APs work includes advice to clients on green design and assistance with preparation of a client's submission for certification.
Aside for complying with the agreed code of conduct, APs will retain active status if accumulate a set number of points with the GBCSA. APs are required to maintain a score of 5 to 10 each year, and those scoring more than 10 will be recognised as Accredited Professional Practitioners (AP+).
Find out how you and members of your team can benefit from registering to become an AP.