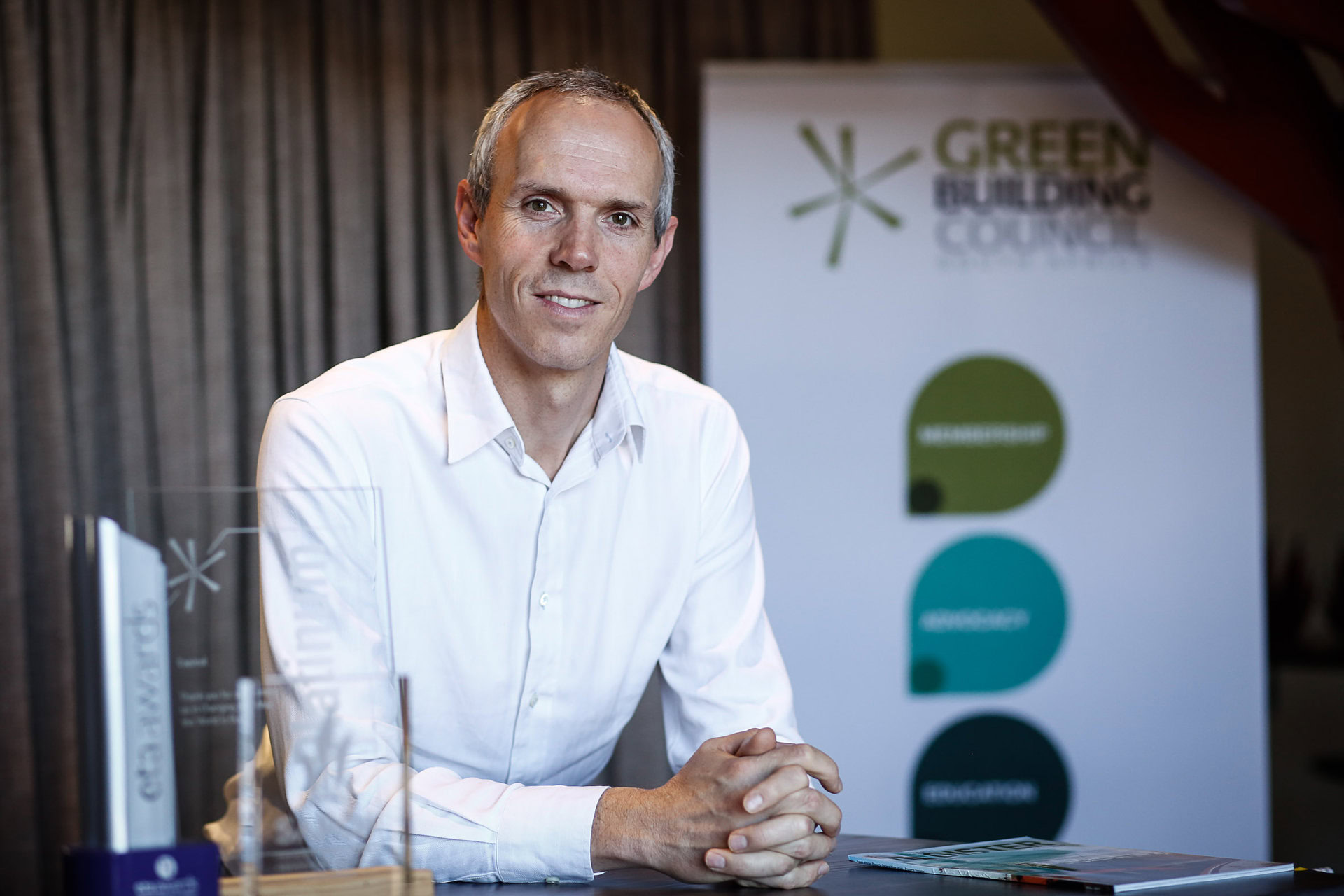 GBCSA bids farewell to Grahame Cruickshanks
April 16, 2020
Grahame Cruickshanks, Green Building Council (GBCSA) Managing Executive: Market Engagement will be passing the baton of the responsibilities of his role back to the GBCSA after fruitful years of service to the GBCSA.
Since 2015, Grahame was first responsible for leading the residential business unit and managing business development, certification and technical development, education, and other related work. He then took over the management and leadership of business development, membership as well as marketing, communications and events across the GBCSA.
Grahame also managed the Johannesburg office, acted as a World GBC membership committee member, and was responsible for media events, contributing to radio, television and social media programming. Besides regularly speaking at engagements with key private and public sector stakeholders he provided support to the business development team on key accounts and established and implemented the first separately leased premises for GBCSA in Johannesburg. "Grahame's positive impact throughout the GBCSA and its work locally and abroad has been, and will continue to be significant. He stood up and spoke up, supporting the team during difficult times, and his hard-work and dedication encouraged us to strive towards a world where our children have the same benefits and enjoyment of our beautiful environment as we do," said GBCSA Chair, Illse Swanepoel.
"Grahame has been integrally involved in a variety of important projects, including launching the EDGE rating tool in SA; partnering with GIZ and DEA on a number of grant-funded initiatives including the Smarthome awareness campaign and a new rating tool for existing homes currently under development; promotion and uptake of Net Zero buildings and; partnering with Alive 2 Green on the award-winning +Impact property publication," Dorah said.
Grahame will be joining Growthpoint Properties in the position of Head of Sustainability and Utilities from the 1st May 2020 where he will be responsible for utility management, resource efficiency, renewable energy, sustainable development and strategic projects across the three sectors invested in by Growthpoint (retail, office, industrial). He is excited about contributing the experience and skills he has learned while at GBCSA to his new focus areas at Growthpoint Properties. Equally important is the opportunity to continue contributing towards South Africa's transition to sustainable built environments from within one of South Africa's leading property funds. "The time that I have served GBCSA and its members has been incredibly rewarding for me. GBCSA plays an instrumental role in South Africa's journey to sustainable built environments and it's hugely satisfying to know that I have contributed towards the organisation's progression of this ambition," he said.
"The GBCSA is staffed by experienced and skilled professionals, who I count as friends, and I look forward to future partnerships with the GBCSA and other stakeholder relationships as we continue to work together for a better South Africa," Grahame said. The team at GBCSA wishes Grahame the very best for this next exciting step in his career. Grahame's last day with the GBCSA will be 30 April 2020.
For more information please contact: info@gbcsa.org.za or call our switchboard: 021 486 7900.